Your Soul's Path to Awakening

You're not designed to feel alone, abandoned by Source/God/Spirit/Universe (or whatever word you want to use). Your life is not meant to feel meaningless.
In the Human Design chart there is a mysterious, little circuit that holds the template for the path to spiritual power and awakening.

Your Soul's Journey - Awakening to the the "I Am" by Human Design
Learn about the mysterious "mystical circuit" in the chart and deepen your understanding of the creative power of your Soul.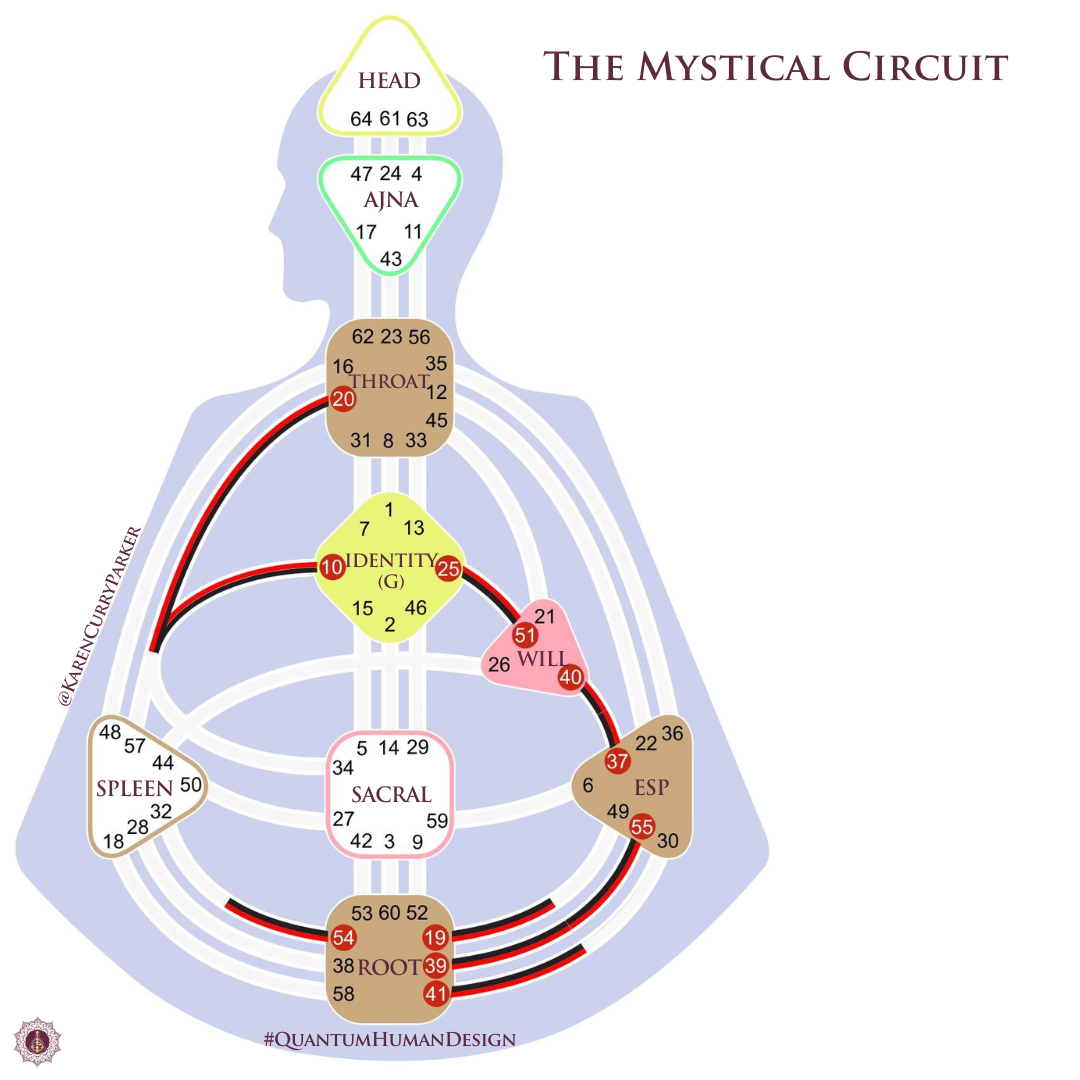 This Circuit, known as the Mystical Circuit, outlines key elements necessary to craft a conscious and deliberate way to surrender your "ego" to a path of service to the Cosmic Plan.
This Circuit also holds the keys to manifesting and explains the true power of the phrase, "I Am".

When people discover who they are, how they are hard-wired for success and their natural connection to Spirit, they can not only get out of pain, but accelerate the fulfillment of their personal potential and create truly meaningful lives.
It's not so easy to "feel" awakened (even if you know your Human Design Type). We often try to rig some kind of spiritual awakening, contorting ourselves with special diets, magical crystals, mantras, energy healings, etc. Most of us fail to maintain whatever regimen we set up for ourselves…
So many of us are waiting for big signs from Spirit, like a flaming angel standing next to our bed at night, or a 5-day Kundalini rising experience.




But what if you're already doing it "right"? What if your life is already a deeply mystical experience?

In this program, we're going to look at the pathway to the Soul's awakening in the chart and how to use the energies in the Mystical Circuit to consciously and deliberately create what you want in your life.

You're going to learn how to activate your manifesting skills, how to activate your manifesting energy and how to discover and align your higher purpose with your life purpose so that your life becomes a reflection of all the complex and beautiful facets of the Truth of Who You Are.

What You'll Get in this self-study program:
• 14 Mini Introductory Lessons
• 14 Full Lessons
• Homework / Study Questions for each Lesson
• Summer Camp Replays (4-Part Series)
• Introduction to Traditional Human Design Course ($197 value)

What You'll Learn:
• All the different aspects in the Mystical Circuit
• How to look at your own Chart and see how you experience that particular aspect
• How to use the power of the Mystical Circuit to stimulate a deeper connection with you and Source
• How to have a deeper connection with you in the Truth of Who You Are
• How you can really use this Circuitry as a conscious way to harness your energy for the sake of creating a reality that is in service not only to yourself, but to the greater good